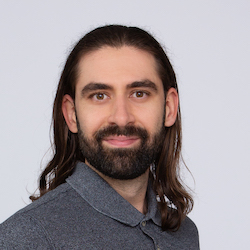 Tell us about yourself
I'm a software engineer and entrepreneur originally from South Africa. Over the years I've worked with startups and consulting firms, and in the last few on my own companies. I primarily work with machine learning and full stack mobile and web development, along with all the operational and design work that comes in-between.
Why did you choose Circles Consulting?
I was drawn to the work culture and decision making structure at Circles. The conversations I had with current employees showed I would be surrounded by knowledgeable peers. The recruitment process was efficient, with clear communication along the way. Circles' alignment with Flutter as a platform worth investing in played a role in my decision.
What are you expecting from Circles?
The opportunity to work on challenging projects and to develop myself and my skillset. To take part in the growth of the company in reaching its ambitious goals.
What would you like to do with customers?
I hope to support our customers and ensure they build the right solutions, and that they do it as sustainably and pragmatically as possible.
What do you bring to the client as a consultant?
I bring knowledge and experience with emerging technologies and machine learning, and how they might be valuable now and in the future.